Scissor Lift Hire at Biondo Rentals
Are you looking for a Scissor Lift Hire company in your area?
At Biondo Rentals our scissor lift hire machines are your preferred access equipment when needing to use in high to reach work in almost any condition. We offer a range of rough terrain machines in both Diesel and Electric options.
We have a range of scissor platform hire equipment and cherry pickers to suit your budget for any type of job application indoor or outdoor.
Biondo Rentals offers top of the range access equipment which we have deemed the best to suit any job application.
Maintained and serviced by our professional and skilled technicians so that we deliver top-quality equipment for any hire purchase.
Short or Long Term Scissor Lift Hire
At Biondo Rentals we maintain an extensive range of Scissor Lifts for short or long term hire right here in Melbourne. You would be rest assured that our scissor lifts is the best for your specific task.

Diesel Scissor Lift
These diesel scissor lifts are self levelling which is perfect for uneven ground surfaces and will handle those difficult jobs where other models will not be suited.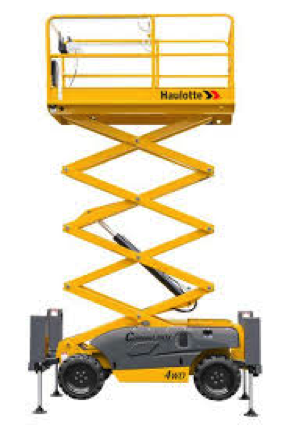 Diesel Scissor Lift Compact 12DX – 12m
Working height – 12.15m
Platform height – 10.15m
Electric Scissor Lift
We offer an extensive range of electric scissor lifts for indoor use and for outdoor operations. Our compact scissor lift models are quiet and are able to work on most flat surfaces. Would suit electricians, plumbers, plasterers and painters.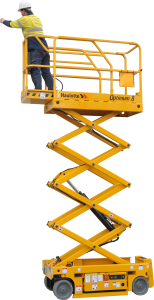 Electric Scissor Lift Compact – 8m & 12m
Working height – 8m & 12m
Electric Scissor Lift Optimum – 8m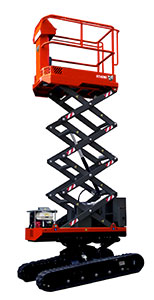 All Terrain Scissor Lift Athena 850
Max. working height – 7.9m
Compact 10N
Working height – 10m
Platform height – 8m
What is a Scissor Lift?
Known as an aerial work platform, a scissor lift is an electric or gas-powered working platform that is mounted on folding arms used to provide access at various heights. It may also be used to help raise or lower unit loads. The main objective of these machines is to provide workers access to areas that are difficult to reach and to perform work at elevated heights.
How much to hire a Scissor Lift?
The cost of hiring a scissor lift is dependent on its size, lifting capacity, power type, and the duration of hire. Getting a quote is easy at Biondo Rentals, simply get in touch with us or call us over the phone. We aim to provide you with reliable equipment and affordable hire rates for your needs.
Why Choose Biondo Rentals for Scissor Lift Hire?
Professional Service
Affordable Scissor Lift Hire
Safety
Maintenance
Quality
What is included in a Scissor Lift Hire plan?
Recommendation on choosing the right scissor lift
Problems with your hire equipment? Call us for support
Fast Delivery & Service
All scissor lifts ensure durability and reliability